Groupon had led me to a great middle eastern spot!! (with great veg/vegan options!).
We started off with the foul, a blended/mashed bean delight. The has chickpeas and fava beans topped with tomato, olive oil and paprika. The fava beans are pungent but delicious. The olive oils and spices are a great complement; served hot with very thin pita bread(in indiviual baggies to keep them soft, I think)
The fatoush salad that came with my main course has one of my favorite spices, Sumac!! Sumac is tart and adds a almost acidic taste. Great salad; loads of yellow bell peppers and mint. Nicely seasoned and very refreshing.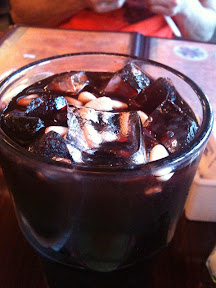 I got a drink called Jallab which is grape juice, date juice, and rose water garnished with pine nuts. It's like bubble tea with pine nuts. Great combo of flavors. Highly recommend.
And what's this?! Homemade hot sauce!!! It's habanero based with smokey notes. I think I have pretty good heat tolerance (I like my first dose of spice by 9 am) and I will say that this stuff is hot, but it still maintains plenty of flavor. Please bottle and sell!!
I got the beef shawarma platter. The beef is marinated in lemon juice and othe spices (I taste some rose water in there) and is served with a rice pilaf w toasted almods, onions, pickled beets and tahini. The tahini is a nice balance to the flavors (and cools down the hot sauce!). There's is cinnamon sprinkled on as well and that was the first thing that hit me. Nice warmth and reminds of when I used to cook cinnamon chicken and have cinnamon smoke all over my house. Ahh memories.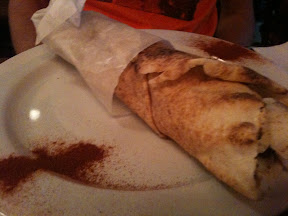 Andrew, the world wide falafel connoisseur, got the falaf pita and below is his expert impressions (and my first guest writer!):
It reminded me of a Lebanese place that I used to go to years ago in Toronto, where I had my first falafel. The falafel is rolled into a very thin tube. I order the version that came with tabouli, pickled beets and crispy falafel wrapped in a ultra thin pita, to which I added the house hot sauce which gave it a nice kick. I would give it a 8 out of 10. Definitely an Arab style rather than Israeli. Andrew, falafel guru.
Yummy food, great prices, huuuge portions and great service! We left "foul" and happy. I'll be coming back often.
- Posted using BlogPress from my iPhone