Easiest way to find this place is to look for the Valero gas station that is attached to. I've had a number of great meals at spots attached to gas stations: fried chicken in Key West, organic vegan turkish in Jupiter, etc so not too worried. This place is packed right now and it's 3 pm... I think that's a good sign right?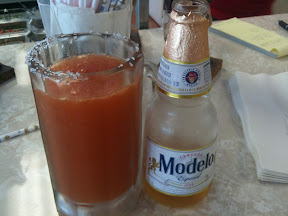 Michelada with Modelo! Refreshing on a Monday afternoon. It's bubbly, fruity, salty, spicy, savory and citrusy. There is orange pulp and lime or lemon i think. There's something very familiar about it but I can't put my finger on it. Andrew says it's the soy sauce.
Any place with a salsa bar gets bonus points from me.
The tomato based on the top right has amazing flavor, savory and sweet, pretty spicy so might be habanero based. The other orange one is smokey, chipotle style. The slices seem to be marinated onions and green scotch bonnets. The green is a terrific tomatillo salsa.
This creamy green one is loaded with lime and onions. Like a peruvian green sauce.
From the right its suadero, lengua, and al pastor
Lengua is fatty and tender like braised beef.
Suadero("special meat of the beef ribs") is almost tastes like pork/lechon.
Al Pastor(stewed blend of pork)Sweet like a Chinese roasted pork, with bits of pineapple.
I gobbled this up, barely coming up for air. I doused (okay drowned) the tacos in the salsa and next thing I know my mouth was on fire. Only thing you can do at that point is to keep eating. Food was great; very friendly service even when it was packed!
Andrew, the self proclaimed "vegan voice", is here to give his impressions on the "building blocks of Mexican cuisine". He always orders the same thing at Mexican places, corn tortillas, beans, avocado and Mexican rice. To which he augments with the condiments from the salsa bar. Below is his account:
Ah! The beans were perfect, creamy and flavorful. Perfect creamy consistency. Also the rice was tasty and perfect texture. The corn tortillas were homemade and slightly thicker than a store bought but not as thick as a Salvadorian or Honduran style tortilla. Combined with the salsa was an 8.5 out of 10; I don't know how you get that last star and a half but this place had it going. Loved the scotch bonnets with lemon juice but all the salsas were good. I tried them in combination so it's hard to tell which was which. All were amazing. The jamaica(hibiscus) juice was great but a little sweet.
- Posted using BlogPress from my iPhone