I came here with my parents (who decided to stop by for a surprise visit...ugh) to celebrate my dad getting his full professorship(!).
The place had decent reviews but really could use some updates. They had curtains to separate the tables so you get some privacy.
We ordered soft shell crabs, which they then told us no longer served. Blah. Sucks. Screw that then. So for our main meal we got the special combo BBQ for two; which was cooked at the table and a kimchee soup.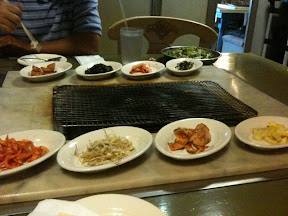 As always, we got the starter dishes; all veg, best one was the potatos. Per my dad, "this doesn't taste too awful". That's actually the highest compliment he can give, so not bad. They were good but nothing amazing; I've had better at other Korean spots in the 954.
The biggest disappointment was the BBQ. We got the combo for 2 and it was small and way over priced at $36. My dad doesn't eat that much and I had a headache so I was out for the count but we still finished all of it. Definitely not enough for a normal set of 2 adults or me on a normal day.
It came with shrimp, chicken, beef and mushrooms. The chicken was bland but had nice grilled flavor (I would hope!). My shrimp was a little under cooked when the waitress served it (they cook it for you). The beef was good. Really good. Too bad you only get like one mouthful.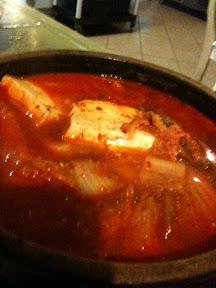 Kimchee soup is one of my fave soups and they did a great job. Spicy, sour, cabbagy. Yum. If you go order off the menu. They recently changed management so maybe that's the disparity. There's better Korean spots in my opinion... Which I will blog about soon.
Also weird, you get a dentist cup of apple juice at the end. Why?
- Posted using BlogPress from my iPhone
Location:Oakland park