This place is tough to find for a number of reasons. 1) there is no visable sign from the street 2) parking lot is behind the place so you'll probably have to do at least 1 u-turn 3) the front entrance was closed 4) after you find it, you have to walk through a store and up a staircase. Good luck! Here's a hint: It's right behind the costume shop.
You get a complimentry basket of carrots and hummus(tastes like an almond/yam blend). We had got the soup sampler:
Roasted butternut squash and pear has a ton of curry flavor. Can't really taste pear but yummy nonetheless.
Cream of Tomato has roasted flavor; sweet and herby. Nice soup.
Sweet and sour cabbage just like the name. I liked this one alot but I love sour soups.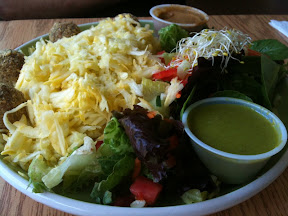 We also got the spaghetti and "meatballs". This dish was 100% raw and more like a salad than spaghetti. The pasta was actually strands of yellow squash. Very nice if you're looking for a salad. This is a huge portion; we had to take the stirfry to go.
The stirfry was very good. The orange cuts across beautifully. The "pork" is a veggie version which is good but doesn't really taste like pork. Great lunch and didn't get really sleepy!
- Posted using BlogPress from my iPhone