Woodlands again... At last! We have been opting for udipi down the road since it's closer. Both places offer terrific vegetarian Indian cuisine although udipi seems to focus more on the south where woodlands touches on both.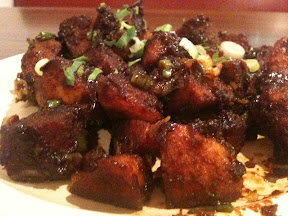 We got the iddly manchurian as an app as well as a rasam soup and some papadams w mango chutney. The iddly was crispy and smothered in a Chinese style soy glaze. The texture was somewhere between fried tofu and polenta. Very good and a unique texture experience- almost meat like.
My soup was good as well; a sour and spicy broth. I have a hard time distingushing the flavor components in Indian dishes so I'm at a loss for words. Although the soup was nothing special (I have high soup standards).
Papadams and chutney was perfect as a starter. The light and airy papadams were not oily at all; dusted with some sort of spice powder.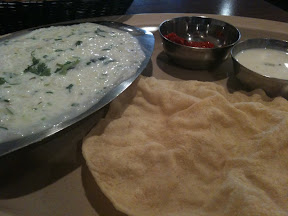 For my main course, I got the Bagala bhath; it's a yogurt rice with cucumbers and mustard seeds. Surprisingly, it was served cold/room tempurature almost like a savory tapioca pudding. It had similar flavors as a raita; but dense with basmati rice. The rice seemed to be broken or crushed; and the spices were mild but worth noting. Cilantro and large dried chile peppers topped it off(not a spicy dish by any means). Highly recommend! Came with a papadam, a sour mango pickle and yogurt sauce(didn't know what to do with it). Again, very good and different!
The vegan voice got the coconut uthappam, an Indian pancake. Similar to the korean pancake in the sense that they both seemed tapioca/rice flour based. Chewy, springy pancake was served with sambar, coconut chutney and a spicy coconut chutney. Very good as well.
"the crepe itself was definitely coconuty alone but with the chutney/sambar the dish is filled with coconut flavor. "
Everything and drinks came to $30!! What a deal! Better yet, come by for their lunch buffet. Amazing! (even better after a long run to reload!)
- Posted using BlogPress from my iPhone