This place is stetchy, even in my terms; that should tell you something since I love to curb crawl down home ethnic places. Located right on 6 ave in North Miami, Cuisine Creole sits across from the apts where a few murders hav occurred (no lie.). Nonetheless, I brave on, in the middle of the night, in search for tassot cabrit (fried goat) or other palate pleasers. This place claims to have the best tassot cabrit in town. Sadly, they were out. Darn. So I ended up with the spinach (epinard) stewed with what I can only surmise as goat instead.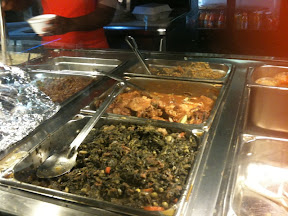 I have had Haitian
food a few times in very random settings. Once was late night at a 'church fair' in North Miami (there was a ton of cops around and I was pretty freaked out), they had the church ladies cook so I would imagine it to be pretty legit; had the griot that time. Another was AYs neighbor's daughter's graduation (I said random right?), this was the motherlode; all homemade, all amazing.
Anyways, when you park, you will be a little worried, scared; you might find yourself peering over your shoulder or patting your wallet, just to make sure its still there. If you come, I would recommend coming here in the daytime and dress down. Don't get me wrong, the people here are incredibly friendly; but the neighborhood is not as much.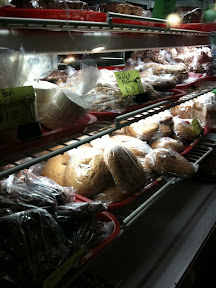 When you first walk in, you'll notice that half the place is shrouded in darkness; not that the lit side is much brighter. Brave on my friend. The place didn't look like it belonged in the states; there are people milling around, it's dark and, well, grimy. The Vegan had to ask for everything several times; partially due to language barriers and partially because he is vegan. But tis all part of the charm (use that loosely) and adventure (oh yeah).There's a display case with unique cookies and cakes. And then there is the classic takeout hot food bar. For a place that has their food ready, they are slow!! Like really slow!! Come on! It's a takeout place! Why do you even need to write down my order? Should be easy as point and throw into a styrofoam container.
Food wise, the place is mediocre. The rice, which I believe was the Haitian black mushroom rice, was greasy and lacking in flavor that delicious, savory, aromatic taste that djon djon typically imparts. I've had good djon djon and that stuff is like carbo crack. The good stuff is so flavorful that you can sit down with just a big bowl full and some pikliz (spicy vinegar sauce with cabbage and carrots) and be absolutely content. Nay, blissful. the Vegan Voice thought the rice had okay flavor but agreed that it was greasy. What does he know? He only played in a Haitian band for a few years. But then, some say the Vegan only eats blades of grass from the 9th hole of a golfcourse.
The fried plantains were good; I'm usually not a huge fan but these were so crispy and creamy inside that I couldn't resist, especially doused in the pikliz. The Vegan Voice had some issues with it as it was likely fried in the same oil as they fry the fish. The vegan didn't like that. I say bring it on. Let's fry it up in duck fat baby!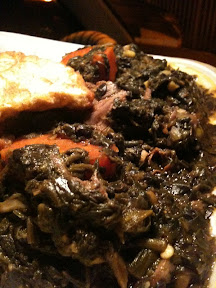 The spinach was classic soul food. I don't care where I'm from. I know comfort food when I taste it. The spinach was stewed with goat (I think, I hope, I'm really not sure) and it tasted so much like collard greens; even more so with the pikliz in lieu of the pepper vinegar. Essentially, it's the same dish in a different cultural setting- leafy greens stewed down with a fatty flavorful piece of meat. How can you go wrong? This one has heavy spices including cloves. I adore cloves in dishes. I think it adds great depth and warmth.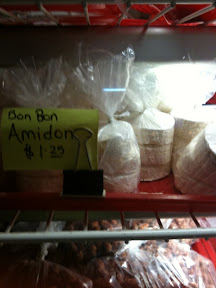 We also got some desserts - slice of rum cake and a trio of bon bon amidon (yuca cookies). The rum cake was okay. I had high expectations and the cake didn't meet them, but it was good. Dense, pound cake with raisins. The yuca cookies were interesting. They are as hard as a hockey puck but melt in your mouth. Careful with where you eat them or else you will have white powder cookies everywhere. Flavor is hard to describe. I have to ponder this one. It reminds me of something.... I'll come back to it.
I'm going to try a few more Haitian spots; I have a feeling that the best one is going to be AY's neighbor who I suspect is Haitian paladar. I can only hope!
- Posted using BlogPress from my iPhone